SSD: The Secret Sauce Behind Our Lightning Fast Web Servers
When it comes to the web, speed is everything. If your page takes too long to load, visitors will just click the back button and go somewhere else. Waiting for your site to load content or process their payment can ruin your business. Here at DARWIN Servers we understand the importance of speed and that's why we are industry leaders in ultra-fast web servers.
The Power of SSD
Page load speeds are basically the function of two different things, the speed of the Internet connection, and the processing power of the actual web server. We have the top of the line in terms of Internet connection speed. But, a lot of server farms can boast about their connection speeds. Where we really bury the competition is in our use of SSD web servers.
The common hard drive (HDD) is powered by the same technology used in the 1950's and 1960's. A spinning plate uses electromagnetism to store information. But, as with any mechanical process with complex moving parts these are subject to deterioration and there is a natural physical limit to how fast memory can be stored and accessed.
Solid-state drives (SSDs) are a much newer technology that is faster and more reliable than HDD because there are no moving parts. SSDs are basically a system of interconnected integrated circuits. They don't even require power to retain data. A SSD is a more resilient and reliable form of the technology in a thumb drive. When you use a SSD your computer flies.
SSD and the Numbers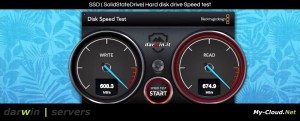 Our customers not only value speed, but they also need technology that's reliable and works in their budgets. As part of our commitment to speed, reliability, and budget friendly service, we sell and rent SSDs. We want everyone to have the best web experience possible.
Just how fast are SSDs? A SSD is 12 times faster than a standard HDD. What could you do with a web server that's 12 times faster? Once you pair our SSD web servers with our 2 Gbps connection speed you have all the ingredients you need for creating the ultimate web experience.
Our customers know that they don't have to limit their creativity and the features of their website because of fears of load times. They have access to the some of the fastest web servers around. The only limit for our customers is their imaginations.
SSD web servers maybe the future for the industry, but at DARWIN Servers, SSD web servers are already here. When you are looking for a place to trust with your web hosting you can either choose a company who plans for the future, or you can use a company that brings the future to you.
Connect with us today and see how our lighting fast connection speeds and industry leading use of SSD web servers can improve your website load times and open up the possibilities for your business. Our prices will impress you, our service will convert you, and our speed will blow your mind.